Last Updated on July 4, 2022 by KC7NYR
The Linux Mint team decided not to feature the "systemd-oom" in Linux Mint 21 service due to the recent user reports in Ubuntu 22.04 LTS.
Linux Mint 21 won't include systemd-oomd
On the June'22 monthly updates, the team announced that the problematic "systemd-oom" would not be available as a systemd service. The systemd-oomd service/daemon monitors your system, and it kills processes when your system runs into out-of-memory (OOM) situations.
In addition, the service also can kill any running processes (such as Firefox) where you might be working on some critical tasks.
Since the release of Ubuntu 22.04 "Jammy Jellyfish", many users have reported the issue in AskUbuntu forums. Furthermore, many users raised concerns that this critical service is enabled without proper warning or user awareness in the form of blog posts or documentation.
Hence the Mint team decided not to feature it in the upcoming Linux Mint 21 "Vanessa". Because Mint has a different type of user base and general users don't bother to know about the "OOM" situations.
I believe it is an important step considering the negative impact it could have caused if it were featured.
Other Notable Changes
In addition to the above change, the upcoming release also plans to introduce the new mintupgrade tool for major version upgrades. The mint upgrade utility is a life saver for those who were looking for a friendly GUI-based upgrade tool.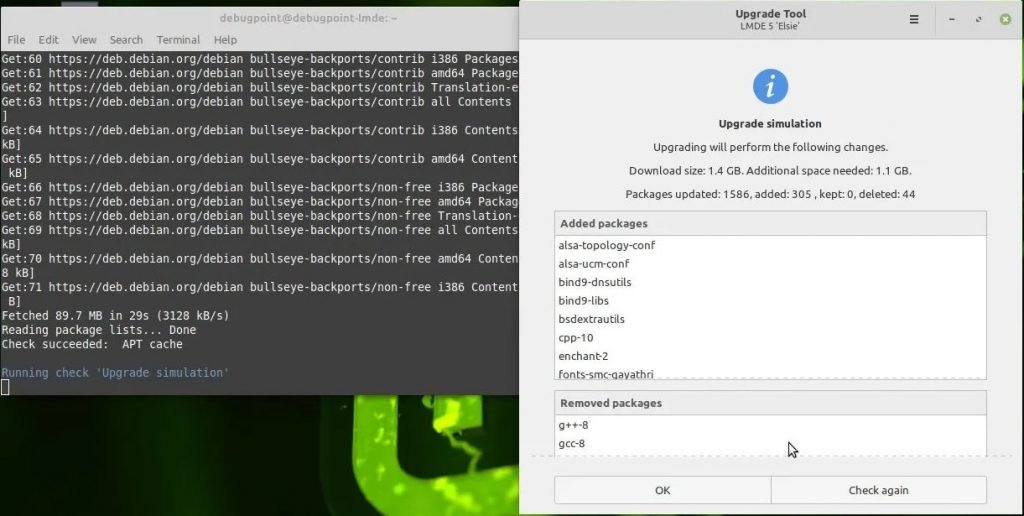 Apart from this, there are some core changes which are coming up. Firstly, Linux Mint 21 "Vanessa" will be based on Ubuntu 22.04 LTS. It will feature the mainline LTS Kernel 5.15.
Secondly, the recently released Cinnamon desktop 5.4 will grace its flagship variant. The Cinnamon 5.4 beings several bug fixes and performance improvements and will be first available with this version.
Other noteworthy changes include the following:
Based on Ubuntu 22.04 LTS "Jammy Jellyfish" and Linux Kernel 5.15

Cinnamon desktop 5.4

Xfce desktop 4.16

MATE desktop 1.24

New mintupgrade utility

The os-prober will be available for proper detection of OSes during grub update

Blueman is now the Bluetooth manager that replaces blueberry

Next-generation image format WebP support in xviewer
Linux Mint 21 beta will be available for testing by July 15, 2022. And the final release would depend on the testing results and feedback.
Via the mint blog.
Reference credit: https://debugpointnews.com/linux-mint-21-systemd-oom/
---
Pine64 Is Now Working On A Powerful RISC-V Single Board Computer
Pine64, the single board computer manufacturer known for their range of open-source-supporting phones, laptops, smartwatches, and, of course, SBCs, has recently revealed that they are working on a new RISC-V powered computer.
This isn't the first time Pine64 has dabbled in the realm of RISC-V; the Pinecil soldering iron and the Pinecone IoT board are both powered by RISC-V. However, this offering promises to be different, with desktop-class performance.
What To Expect?
As Pine64 pointed out in their announcement, some details haven't been finalized yet, and they haven't revealed everything yet. However, this is what we do know now:
Similar performance to the Quartz64

133mm x 80mm footprint

4 or 8 GB RAM

USB 3.0

Open PCIe slot

One or two Gigabit Ethernet ports

Vulkan 1.2 and OpenGL 1.1/2.0/3.x support
As you may have noticed, "similar performance to the Quartz64" is a little unambiguous. However, it does at least give us an indication of the performance.
Well, they aim for this to be an affordable option and a decently powerful one.
However, all this power is useless if there's no IO for it to interact with. Fortunately, the board should have a similar layout to Pine64's other boards, so at least have a general idea of the I/O.
If it is anything like the Quartz 64, I expect three to four USB ports, one or two of which will be USB 3.0. Additionally, there should be one HDMI connector, as well as a MIPI-DSI interface. In terms of PCIe, there is going to be an open slot on the board. In line with previous boards, this is likely to be a PCIe 2.0 1x slot, opening up possibilities for NVMe SSDs and other PC expansion cards.
Overall, I expect this board to be quite powerful for an SBC, and especially a RISC-V-powered one. It should be an interesting one for sure!
How Much Does It Cost?
With most new and niche technologies, generally comes a higher price tag. Fortunately, this does not appear to be the case with this new SBC, as Pine64 has confirmed a general price range.
The board will premiere in our signature model-A form factor, feature CPU performance which falls somewhere in the neighbourhood of the Quartz64, offer plenty of IO, and sport a price-tag similar to that of the Quartz64.
Considering that the Quartz64 has a price tag of 60 USD for the 4 GB model, I expect a price somewhere in the range of $70 – $80 for the 4 GB, and $90 – $100 for the 8 GB model.
This is all around the same price as the equivalent Raspberry Pi's, while offering more features and an exciting new architecture.
A Riddle for the Name
In signature Pine64 style, we don't yet know what it will be called. However, they have left us a riddle:
Although I am still clueless as to what it means, there are a few hints. First, they are likely to continue naming their SBCs after certain natural materials. Think pine64, Rock64, Quartz64. When combined with the information provided in the riddle, I'm sure someone will be able to guess it correctly. And, that person is promised to get the first board off the production line for free!
If you want to have a crack, all you need to do is post your guess on the Pine64 announcement page's comments.
Overall, I'm really excited to see what this board is going to turn out like, and I'm optimistic about its performance. I'll be sure to grab one as soon as they're available!
Reference credit: https://news.itsfoss.com/pine64-riscv/
---