Linux in The News 7-24-23
Intel Passes NUC Baton to Asus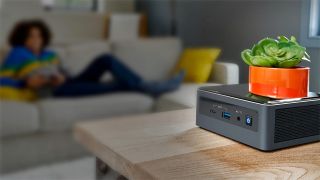 (Image credit: Intel)
Intel recently left the NUC business, but today Asus and Intel revealed that they had reached a preliminary agreement that gives Asus a non-exclusive license to produce Intel NUC designs and develop next-generation NUCs. With its vast engineering resources, Asus will clearly be able to support the rather diverse product line that NUC has become.
The preliminary term sheet enables Asus to build and sell Intel's 10th to 13th-generation NUC PCs as well as develop future NUC designs. In exchange, Asus will have to support existing NUC systems, which is a tough nut to crack given the fact that Intel has released NUCs for all possible markets, including home offices, small offices, businesses, enterprises, IoT, industrial, and even gaming.
"Our NUC systems product team delivered unique products that spurred innovation in the ultra-small form factor market," said Sam Gao, Intel vice president and general manager of Intel Client Platform Solutions.
Asus intends to form a new business division called Asus NUC BU to produce existing designs, develop new ones, and support the installed base, a plan that clearly indicates Asustek's increasing involvement in the NUC program. While it is too early to think about Asus's future NUC designs, we can anticipate that the company might try to diversify the lineup even further, given its extensive engineering capabilities and tendency to have a very broad product portfolio. In this case, it remains to be seen what happens to smaller value-added NUC resellers that currently make money by customizing Intel NUCs.
"As we pivot our strategy to enable ecosystem partners to continue NUC systems product innovation and growth, our priority is to ensure a smooth transition for our customers and partners," said Gao. "I am looking forward to ASUS continuing to deliver exceptional products and supporting our NUC systems customers."
Handing the NUC baton to Asus enables Intel to further pivot its corporate focus to what it does best: developing and producing highly competitive chips. On the other hand, the arrangement with Intel will enhance Asus's foothold in the compact PC market and perhaps will even bring the company back to the list of the world's Top 5 largest PC makers.
The license granted to Asus by Intel is non-exclusive, leaving room for other PC and motherboard manufacturers to potentially produce NUC-branded products. Yet, Asus is one of a few companies capable of running the NUC business at a large scale.
For now, it is unknown whether Intel will set specific conditions for those interested in making NUCs, but at least we know that the company has granted non-exclusive licenses, leaving the door open to other players.
"Thank you, Intel, for your confidence in us to take the NUC systems product line forward," said Joe Hsieh, ASUS chief operating officer. "I am confident that this collaboration will enhance and accelerate our vision for the mini PC – greatly expanding our footprint in areas such as AI and AioT. We are committed to ensuring the excellent support and service that NUC systems customers expect."
Source Credit: Toms Hardware
Debian 12.1 "Bookworm" Released with 89 Bug Fixes and 26 Security Updates
This is the recommended ISO release for those who want to install the latest Debian GNU/Linux 12 "Bookworm" operating system.
The Debian Project announced today the release and general availability of Debian 12.1 as the first ISO update to the latest Debian GNU/Linux 12 "Bookworm" operating system series.
Debian 12.1 arrives six weeks after the release of Debian GNU/Linux 12 "Bookworm" to provide those who want to deploy the operating system on new hardware with up-to-date installation media where you won't have to download hundreds of updates from the repositories after the installation.
As such, Debian 12.1 includes all the security and software updates that have been released since June 10th, 2023, for the Debian GNU/Linux 12 "Bookworm" operating system series. In numbers, the new ISO release includes a total of miscellaneous bug fixes for 89 packages and 26 security updates.
For technical details about these security and bug fixes, check out the release announcement page. The new ISO images are available for download right now from the official website, but the Debian Project reminds us that this first Debian 12 point release doesn't constitute a new version of the Bookworm series.
As expected, Debian 12.1 installation images are available for 64-bit (amd64), 32-bit (i386), PowerPC 64-bit Little Endian (ppc64el), IBM System z (s390x), MIPS 64-bit Little Endian (mips64el), MIPS 32-bit Little Endian (mipsel), MIPS, Armel, ARMhf, and AArch64 (arm64) hardware architectures.
On the other hand, there are also Debian 12.1 live images with the KDE Plasma, GNOME, Xfce, LXQt, LXDE, Cinnamon, and MATE desktop environments pre-installed, but only for 64-bit systems. A NetInstall image is also available for download for those who want to install Debian over the network.
As usual, existing Debian GNU/Linux 12 "Bookworm" users are recommended to keep their installations up to date at all times to receive the latest security and bug fixes by running the sudo apt update && sudo apt full-upgrade commands in a terminal emulator or virtual console.
Source credit: 9 to 5 Linux